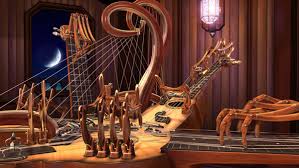 Resonant Chamber 
is a very mellow song from
Animusic 2
. It could be the follow-up of
Aqua Harp
.
Instruments
Edit
In order they are presented:
Eight-stringed classical guitar
Seven-stringed shamisen
Two-stringed bass

04:28

"Resonant Chamber" - Animusic.com-2

Four-stringed lute/mandolin
Four-stringed tapped guitar
Two-stringed ukulele
Six-string harp
Guitar: Eb2-Db5
Harp: Bb4-Bb5
Bass: Eb1-F3
Lute: Bb3-Bb4
Tapped Guitar: F2-C5
Ukulele: F2-C#5
The classical guitar starts to play, when all the other instruments play. After a while, the song gets the fastest, then the slowest. The song then plays the musical chorus. After the chorus, the song ends.
Trivia/Goofs
Edit
At 2:46 into the piece, a short brass-like chord can be heard, apparently played by the 8-string guitar.
Ad blocker interference detected!
Wikia is a free-to-use site that makes money from advertising. We have a modified experience for viewers using ad blockers

Wikia is not accessible if you've made further modifications. Remove the custom ad blocker rule(s) and the page will load as expected.