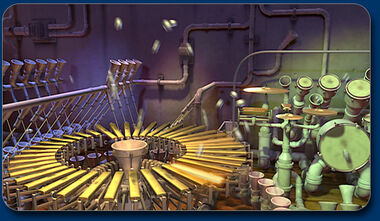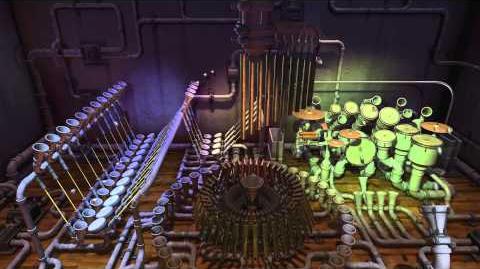 Pipe Dream 2 is the fifth animation on Animusic 2 and the sequel to Animusic's Pipe Dream. It features the same set and instruments as the original.
Summary/Description
Edit
A bunch of instruments play on a room completly surrounded by pipes. They are all played by ball bearings that shoot out of certain pipes. 
Instruments
Edit
Instruments in the order they're presented:
Guitar: Bb1-G3
Banjo: A3-C4
Vibraphone: C3-F5
Bells: C4-C5
Marimba: Eb2-F5
Trivia/Goofs
Edit
To contrast the two different performances on this set, the Acoustic Guitar/Bongo double instrument next to the wall is lit by a blue light in the second version, as opposed to a magenta light in the first version. The golden vibraphone fountain now glows orange when struck instead of white. The back wall from the first animation has been removed to reveal a large empty space filled with pipes. The tubular bells also have a little more detail, partially due to the fact that they spend more time onscreen. The whole set is slightly more worn and dented.
The instruments are also tuned slightly differently from the first animation.
At one point near the end of the animation the splash cymbal and cowbell can be heard simultaneously, which should be impossible due to the configuration of the drums.
Ad blocker interference detected!
Wikia is a free-to-use site that makes money from advertising. We have a modified experience for viewers using ad blockers

Wikia is not accessible if you've made further modifications. Remove the custom ad blocker rule(s) and the page will load as expected.