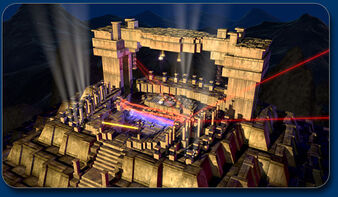 Heavy Light is the eighth and final song on Animusic 2. Set on a peak in the mountains, the piece is performed on an Aztec-like pyramid, with a long series of small stairs leading up to it. The performance starts with the blue chorus beams appearing to trigger the transformation of the pyramid into the musical temple. At least three other planets or moons can be seen in the sky, one of which bears a strong resemblance to the planet Jupiter.
Instruments
Edit
Instruments in the order they're presented:
Blue Chorus synth Lasers

07:16

Heavy Light

Violet Synth Bass Beams
Yellow Lead Synth Lasers
Drums and cymbals (a bass drum, a snare drum, 3 hi-hats, 3 wood blocks, 3 crash cymbals, and 10 toms)
Orange String Beams
Red synth sawtooth Lasers
White Chorus Floodlights
Green flash Chirp Laser
Gongs
Chorus lasers: E3-F#5
Bass: E1-E2
Lead Synth: E3-G6
Strings: E3-C5
Red Lead: D3-D6
Chorus floodlights: E2-C5
Green Laser: E4-C7
This is the longest animation on all animusic songs, with 6:30.
Close-ups and set construction
Edit
On the DVD, Heavy Light is the only one with two distinct special features.
Set Construction
Edit
Wayne Lytle decided to do another set construction. "That would be kinda hard, but at least it's not Gyro Drums," Wayne says.
Close-ups
Edit
Wayne also decided to make another feature, his favriote one of all, the close ups. It isn't the full version, it's just a clip. This was used for the Heavy Light preview on their website, Animusic.com.
Drum/Bass submix
Edit
The drum and bass submix is only available on the Animusic 2 soundtrack and as background music to the set construction.
Ad blocker interference detected!
Wikia is a free-to-use site that makes money from advertising. We have a modified experience for viewers using ad blockers

Wikia is not accessible if you've made further modifications. Remove the custom ad blocker rule(s) and the page will load as expected.