Fiber Bundles is the sixth animation on Animusic 2. It features glowing pads activated by light that flows through fiber-optic cables.
Setting/Description
Edit
The animation is set in a room bounded by alienistic dark green pipes, with colored tubes and pads that play when light flows through them from fiber-optic cables. The light flows through the cables at a visible speed, and so the cables probably are filled with supercold matter, called a Bose-Einstein condensate, which slows light down to a visible speed. The fact that the drums actually interact with these packets of lights is most likely due to there being glowing matter instead of light coming through their cables, which solidifies on contact with air, and evaporates on impact.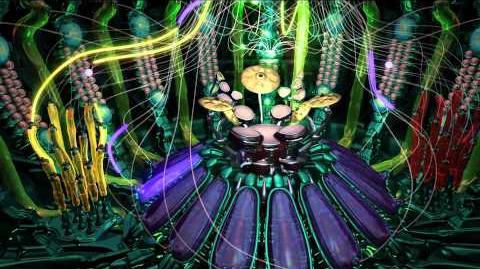 Instruments
Edit
Instruments in the order they're presented:  

Green Synth Laser Chorus
White Echo light Synth Pulses
Purple Synth Bass
Electric Percussion set
Red Synth Lead
Yellow treble Chorus Synth
Blue-green Synthesizer Flash light Pulses
Green Synth: A1-E3
Echo Synth: D4-E7
Purple Bass Synth: D1-B2
Red Synth: D3-E5, E2-E4
Yellow Chorus Synth: G3-E5
Synth Pulses: B4-B6 (bottom), D5-E7 (top)
This animation takes place in outer space, and has drums and lasers. This could possibly be the follow-up to Beyond The Walls.
Towards the end of this piece's commentary on the DVD, Wayne Lytle remarks that the music in David Bergeaud's Ratchet & Clank series, of which Lytle has played all three games, may have had some influence over this piece.
The top note of the bass instrument plays an A near the beginning, but later it plays a B.
The red synth shifts down an octave in the second half of the piece.
There may be invisible aliens tapping their feet in this strobed light show, Wayne Lytle says.
Wayne mentions that this is his favorite piece on Animusic 2, further stating how Dave Crognale did a good job on the instrument models, how they look both extraterrestrial and friendly.
Bonus Feature: Mixes: One of the most exquisite bonus features in all of Animusic history. An audio/visual breakdown of instrument groups via camera angles and audio streams. In the first 3 mixes, only certain groups of instruments are heard and seen, while everything else is mute and faded.

MIX 1: Electric Drums and Purple Bass Synth.
MIX 2: White Echo Synths and Pulse Synths.
MIX 3: Green Chorus Synths, Yellow Treble Synths, and Red Lead Synths.
MIX ALL: This last feature shows every instrument playing and sounding at the same time, as in the actual animation.

There is a menu before the mixes that provides instructions on how to operate them, as well as allowing the Mix Menu to be turned on or off.
The mixes can be switched whenever the Mix Menu appears on screen, or at any time by using the ANGLE button on a DVD player's remote, as well as pressing the AUDIO button to control the switching of audio streams on different mixes.